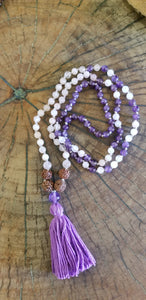 Rose quartz and Amethyst Mala with Tibetan Rudraksha seeds.
Rose Quartz is the stone of universal love. It restores trust and harmony in relationships, encouraging unconditional love. Rose Quartz purifies and opens the heart at all levels to promote love, self-love, friendship, deep inner healing and feelings of peace.
 Amethyst is a powerful and protective stone.  It guards against psychic attack, transmuting the energy into love and protecting the wearer from all types of harm, including geopathic or electromagnetic stress and ill wishes from others.  Amethyst is a natural tranquiliser, it relieves stress and strain, soothes irritability, balances mood swings, dispels anger, rage, fear and anxiety
Rudraksha seeds are believed to increase concentration. They provide clarity and peace of mind, which is why they are used commonly in malas and jewelry for your meditation practice! They're also thought to improve memory and relieve stress. These seed beads also resonate with all of the 7 chakras!